Relatives concerned at ministry inaction over boy who hanged self
Relatives of Safraz Sattaur, the 16-year-old boy who hanged himself on January 4th after he was allegedly threatened by three welfare officers from the Ministry of Education are distraught that the ministry appears not to be taking action on the matter.
Sattaur's parents told Stabroek News in a recent interview that they were appalled that the ministry has shown no consideration for their loss. They said no official from the ministry had visited them.
However, the boy's mother, Nadira Sattaur, said that two Saturdays ago two police officers visited their home in Anna Catherina, West Coast Demerara and inquired about the boy's death. She said the police officers took statements from her husband and the villagers who said they had overheard the welfare officers threatening the boy.
She said the police had asked the men how they knew the boy's visitors were welfare officers from the Ministry of Education and the men told them they had seen a white bus with the Ministry of Education written on the side.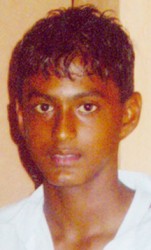 "My son gone and they still have that man who threaten him working? What if he does it to another child? No one come and tell me        nothing."
When Stabroek News tried to contact acting Minister of Education Dr Frank Anthony he was said to be unavailable for comment.
On January 14, the minister had said that he had launched an investigation into the boy's death. When questioned by a reporter, he said he was unaware as to why the officers had visited Sattaur's home but promised to look into it. He also said that he was unable to comment on allegations raised against one of the welfare officers because he was just filling in for Minister of Education Priya Manickchand.
On January 4, villagers saw a white bus branded with the Ministry of Education on the side pull up in front of the Sattaurs' residence. One villager, Anthony Johnson, said he overheard the officers in the vehicle questioning Safraz Sattaur and he approached and told them to stop. But after he left he said the officers continued to speak to the child. After the welfare officers left Sattaur told Johnson and another villager that the officers had threatened him and told him that they would take him to court and jail him over the death of his girlfriend, Natasha Nazamudeen. Nazamudeen had been found dead in her home on December 18, 2012. It was alleged that Nazamudeen had hanged herself.
Johnson said that he told Sattaur to stop worrying but the boy said that he was going and finish up watching a movie. Fifteen minutes later Sattaur's parents returned home from the city and found him hanging in his room.
Most Read This Week