Fort Wellington police officers treat seniors
Ten elderly residents of Bush Lot, West Berbice experienced the softer side of the police force last month when senior officers from the Fort Wellington Station teamed up with other groups and presented them with hampers.
They were also happy to interact with senior superintendant, Jairam Ramlakhan and sergeant Gravesande along with the chairman, Nandkishore Deokie and other members of the Bush Lot Community Policing Group
(CPG) and of the Station Management Committee.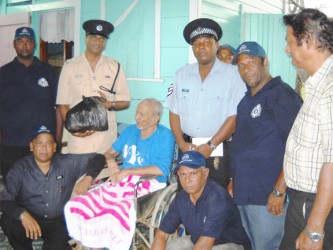 Deokie said the exercise was the initiative of Ramlakhan, the head of sub-division three, who asked him to "select a few old people in the village. All of the people we chose were over 80 and 90 years old… they had made contributions to the community."
He said the old folks who were happy to receive the hampers also got an opportunity to share stories of their lives.
The groups are hoping to continue the distribution of hampers on a regular basis. A similar exercise was done at Blairmont.