Minister of Home Affairs Clement Rohee finally got his day in the House this afternoon after Speaker Raphael Trotman denied APNU's last ditch attempt to silence him.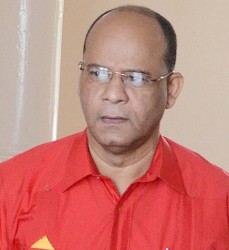 Minister Rohee was allowed to present the Firearms Amendment Bill and made a presentation supporting the bill. "I am pleased that we have finally reached the state to have this bill debated," the minister said, adding that it is a very timely bill.
However, his triumph was short lived as the opposition voted resoundingly against the bill.
APNU member Basil Williams had earlier risen on a point of order, after Speaker Trotman formally announced his earlier ruling that the minister has a right to speak. The Speaker said he had received a mail from Williams today asking that he allow him to rise on a point of order before he announced his ruling which was sent out to the media late last month. However, Trotman announced his ruling first, then allowed Williams to speak.
Williams argued that a substantive motion laid by Opposition leader David Granger was still being dealt with in the House and therefore Trotman should not have ruled. He also pointed out that Trotman was disregarding a ruling by acting Chief Justice Ian Chang, whom he said ruled that Rohee's right to speak was as a member of parliament and not minister.
In the end the Speaker said that his ruling stands and Rohee would be allowed to speak which he did.
Unlike previous sittings, when the opposition had erupted into "Rohee must go" chants every time the minister attempted to speak there was silence from the opposition benches.
APNU may have wanted to challenge the issue further but it had no leg to stand on as the AFC had publicly said that it would respect the Speaker's ruling and without the support of that party there was no majority.
Most Read This Week