Wings Aviation commissions new hangar at Ogle
Wings Aviation yesterday commissioned its new hangar at the Ogle International Airport and the facility is capable of accommodating and servicing aircraft of the Dash 8 variety as the airport develops into a hub for local and regional aviation.
"Our company Wings Aviation Limited was incorporated in Georgetown, Guyana on February 1, 1984. Wings Aviation was formed to provide transportation to the gold and diamond miners of Guyana and tourists. We have operated various Cessna aircraft and Mitsubishi turboprops since the 1980s," said Ronald Reece, Chairman and CEO.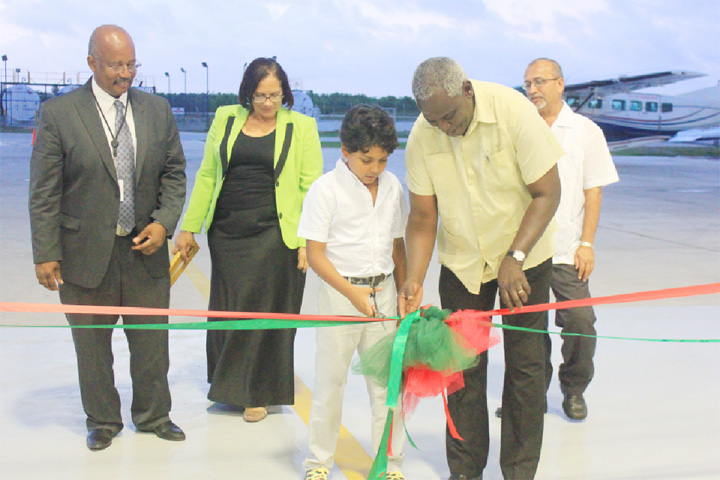 "We have strived over the years to provide a safe and reliable transportation product which satisfies the need of our customers," he said. No information was provided on the size of the investment.
Reece said that the Ogle Airport has come a long way and he was proud to have grown with the airport. "This maintenance hangar is now capable of accommodating ten Bombardier Dash 8 ATR-42 or ATR-72. Wings Aviation Limited is here to provide modern day maintenance facilities. We would like to thank the Government of Guyana, the GCAA, the Board, management and staff of Ogle Airport Inc and all the contractors and workmen who have helped us to make this hangar what it is today," he said.
"It will be remiss of me at this stage not to mention the enormous support received from my wife Roxanne and my family in building of this hangar," he said.
Speaking at the commissioning, Minister of Works Robeson Benn offered his congratulations to the company and spoke of the Government's commitment to the sector.
"I would like to offer my sincerest congratulations to the Reece family for the effort they have made over these years to make this a reality. This speaks to the energy and the drive and the [willingness] to take disappointments along the way with respect to achieving the kind of results that we have today," Benn said.
He said that the project is testimony of what could be achieved despite the odds when Guyanese work together.
"As I have said, if you don't have the effort, the interest and professional expertise and focus at all levels of the activities you will have tragedies and we will have a collapse of the industry," he said.
He said that the Government and the GCAA remain committed to ensuring that growth and development in the aviation industry continue and is maintained and sustained.
Speaking of the developments to soon take place at the Cheddi Jagan International Airport at Timehri, Benn said that he believes there is a niche role for the Ogle Airport in terms of regional transportation and for forming linkages with neighbours. "We want to see regular scheduled flights to Suriname, French Guiana, Venezuela – places where there is a large Guyanese diaspora," he said.