The GBTI branch on Regent Street  will require minor repair work after a Ford F 150 reversed yesterday into one the the pillars near the bank's entrance at high speed.a
Eyewitnesses said they first heard the loud "screech" of tires followed by a "smashing sound,"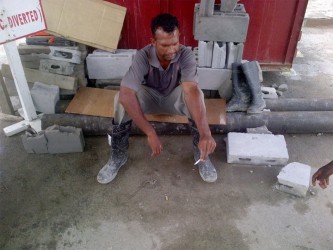 as the truck rapidly reversed from where it was parked, near Bhena's Footwear, located across the road, into the bank's pillar.
Both the truck and its driver are attached to S.Jagmohan Hardware Supplies and Construction Services, the firm which is currently carrying on works to the sewerage system between Camp and Wellington streets.
The truck's driver, who was visibly shaken by the accident,  told Stabroek News that this was his first attempt at driving this type of vehicle. The man explained that after putting the truck into drive, he pressed too hard on the accelerator which sent it careening into the pillar.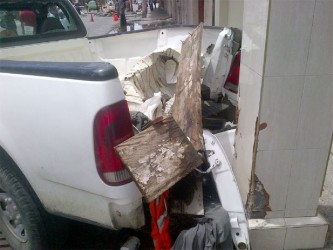 The man, who escaped with minor injuries to his head, said he was just happy that no one was in the path of the truck as it reversed.
The  pillar was not seriously damaged  by the impact, however the same could not be said for the truck's tray and the truck itself, which was bent out of shape.
A representative from the bank visited the scene where he spoke to a representative of the construction company.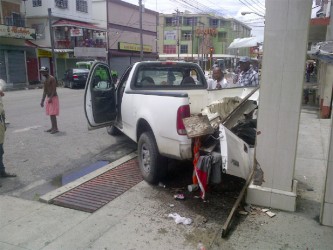 Most Read This Week