Campbelle relishing new role at number three
MUMBAI, India,  CMC – Shemaine Campbelle says she is content with her new role at number three and will be hunting more success in that position when the Women's World Cup bowls off here this week.
The 20-year-old Guyanese batted in the position during South Africa's recent one-day tour of the Caribbean, striking an exciting 47 in the final game at Windsor Park in Dominica, to steer West Indies to victory.
And with just days before West Indies Women open their campaign, Campbelle says she was relishing the thought of playing a key role in the top order.
"I'm quite comfortable batting one-down as that is something that suits me fine. I am not a big-hitter so I always look to spend time at the crease and accumulate my runs," said Campbelle, who is also a back-up wicket-keeper.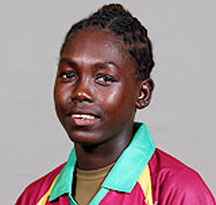 "Before when I was batting down the order, things used to get a bit hectic. Against South Africa I was happy to get a chance to move up the order and that helped me to settle. I felt I played quite well, especially in the last match which was a must-win situation."
West Indies will get their first taste of action  today (last night, Eastern Caribbean time) when they face Australia in the first of two warm-up matches.
They will take on a Mumbai Community XI tomorrow in their final warm-up game, before clashing with hosts India on the opening day of the January 31 to February 17 tournament.
Campbelle said it would be important to assess and adapt to conditions in the Asian subcontinent, in order to excel in the campaign. "The first thing is to get used to the conditions, the climate and the atmosphere," said Campbelle, who has already played 34 One-Day Internationals and 44 Twenty20s
"Batting-wise, my approach will be pretty much the same as usual. The key is to build an innings and put down a foundation for the team."