Greaves carts off Burnham Memorial road race
Roraima Bikers cyclist Alonzo Greaves made a clean sweep of the week-end's cycle main events by winning the fifth annual Burnham Memorial cycle road race yesterday.
Greaves who won Saturday's feature event of the R& R cycling card in the National Park showed no signs of fatigue in winning yesterday's race in a time of two hours, 31 minutes and 36 seconds.
Greaves, who won yesterday's first stage and placed third in the second stage, finished one second ahead of national road race champion Orville Hinds.
Geron Williams, Robin Persaud, Warren '40' McKay and Paul Choo-Wee-Nam, rounded out the top six.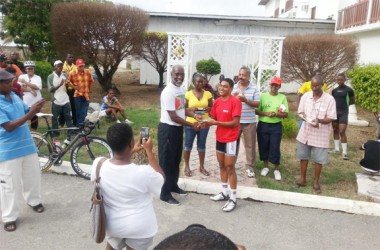 Akeem Ambrose was the top junior category with Akeem Arthur and Michael Anthony second and third respectively.
Raymond Newton was the winner of the veterans' category with Junior Niles and Talim Shaw finishing second and third respectively while Hazina Bharrat won the female category from Naomi Singh.
Of the 12 prime prizes that were up for grabs, Hinds, Williams and Eric Sankar won two each while Greaves, Persaud, Anthony, Mark Lewis, Walter Grant-Stuart and Andrew Reece won one each.