Victoria Eagles edge Melanie 'B' 1-0
An Alden Lawrence second half strike enabled Victoria Eagles to secure a hard-fought 1-0 victory over a determined Melanie B unit on Sunday in the Guinness Greatest of the Streets East Coast leg at the Haslington Market Square.
Watched by a large and boisterous crowd, the first half got under way in a frenetic tempo with both teams seeking the 'w' for qualification to the business round.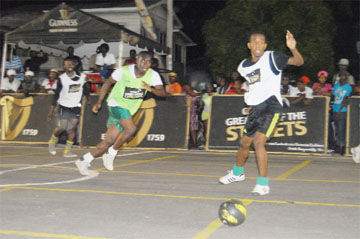 The wet conditions underfoot (owing to intermittent showers) negated the creative output of the players resulting in staunch and at times unconventional defensive practices, mistimed runs and broken plays.
Melanie B, urged on by the vocal following, began to find leeway in the wider areas, pressing forward through their skilful duo of William Europe and Akeel Bacchus.
Victoria Eagles, on the back foot, almost conceded the first goal but the beautifully worked move by the Melanie B outfit was denied by the woodwork as the boys from Melanie finished the period strongly.
The second epoch continued in the same vein as both units tried to gain the upper hand with the last remaining quarterfinal slot on the line. Carrying their attacking momentum over from the first half, the Melanie B outfit began to dictate proceedings with Victoria looking to counter.
Victoria almost broke the gridlock as a neat build up by their physical frontline went agonizingly close.
With penalties looming, the deadlock was eventually broken in the dying stages of the affair as Lawrence's 18th minute strike compliments of a Melanie B midfield imprudence, sent the Victoria faithful into loud merriment.
In the other results, Melanie A defeated Ann's Grove Punters 2-0 with
Shermon Fraser in the seventh minute and Darwayne Peters in the 12th minute the goal scorers; Church Yard United (Victoria) edged Mahaica 1-0 with Gollex Gouveia netting the game winner in the third minute; BV A  edged Paradise  2-1 with  Delroy Deen fourth and 14th minutes scoring for BV A while Kwame Alfred scored for Paradise in the 15th minute; Buxton A edged Nabacalis 1-0 with Eon Garnett scoring in the first minute; Ann's Grove Young Warriors defeated Buxton B 2-0 with Bavhawn Allen, first minute and Patrick Collins, 18th minute the goal scorers; Golden Grove Superstars  edged BV B 1-0  with Stephone Walcott netting the game winner in the third minute and Plaisance winning by walkover from Vryheid's Lust.
Most Read This Week