'Jackie Chan' transfer to Alpha not permanent
National striker and former Pele FC marksman Gregory "Jackie Chan" Richardson says his sudden shock transfer to Alpha United is not a permanent move, nor is it motivated by finances but was done to help the club progress in the CFU club championships.
"The move is not for the money but to facilitate the team's progression in the tournament. It's not a big deal; I want to play in CONCACAF and when the tournament is over and my contractual obligations are fulfilled I will go back to Pele," the talented target man told Stabroek Sport.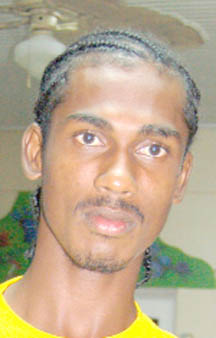 Questioned about the possibility of making the switch permanent, the gifted striker said he has no intentions of such a proposition and that he remains a Pele faithful despite playing under the Alpha banner.  "I have given 15 years to Pele and the club will always be a part of my fabric. My intention is to help Alpha's cause in relation to the CFU competition which in turn will help us to qualify for the CONCACAF champion's league," Richardson said.  "I don't want people to get the wrong impression. This is not an everlasting move. It's about assisting a cause as I would love to see a team from Guyana qualify for the CONCACAF champion's league and progress well into the tournament," he added.  In an invited comment, Presidential Advisor on Empowerment and Club President Odinga Lumumba said signing the prolific forward highlighted the club's intention of addressing a current shortcoming.
"To compete at the International level, improving the quality of the squad is paramount. With regards to the acquisition of Gregory Richardson, this move was necessitated to ameliorate the striker position. Currently we are working on consolidating the centre half spot and have identified some players that could improve that space," he said.