Ageday hoping for successful first year as a senior
- but disappointed with controversy surrounding AAG
Nineteen-year-old South American 100m bronze medallist Chavez Ageday is focussed on stepping up his game as he prepares to compete as a senior competitor for the first time this year while hoping to qualify for world class competitions.
Ageday, who is coached Raymond Dauw, bagged his first medal at an international meet at the South American Under 23 Championships in Sao Paulo Brazil last September.
There, Ageday clocked his electronically personal best time 10.65s to steal the final place on the podium in the men's Under 23 100m.
Five months later, Ageday is pumped and ready for the 2013 competition season after recently overcoming a hamstring injury during his off-season strengthening programme. The sprint ace said that he recognises that much more is required of him now that he is a senior competitor and he is ready to rise to the challenge.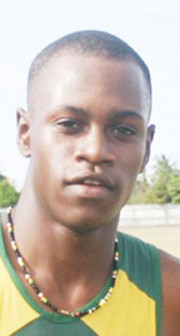 "Well I am senior now so I have to step up my game…" Ageday stated.
However, Ageday said that he was disappointed with the turmoil that is currently surrounding the administration of the sport he loves. Ageday, who is a member of the Ruralites Track Club, which is still awaiting affiliate membership from the Athletics Association of Guyana (AAG), said that he was pleased with the change in the AAG presidency but is disappointed how the situation is currently unfolding.
Aubrey Hutson was elected to the serve as new president of the AAG, but following the elections former president Colin Boyce filed an injunction against the newly constituted body alleging that the electoral process was unconstitutional.
Commenting on that situation, Ageday stated that it was "A bit embarrassing but (I) hope everything (gets) sorted out as soon as possible."
Apart from seeking affiliation with the AAG, Ageday and his coach had been pleading with the past administration of the AAG for support since they had no proper facility to train.
Ageday even confessed to having done most of his training on the road rather than on grass and was still able to excel at the South American Under 23 Games. For those reasons, Ageday was hoping that the new administration could help him out of his unique situation.
"Well it's great to have a change sometimes and (I'm) hoping to see what he (newly elected president Aubrey Hutson) has to offer and put forward for our athletes in Guyana…," Ageday said.
Training facilities still proves to be quite a challenge for Ageday as he still trains on the road. Ageday told Stabroek Sport that at present he trains regularly on the Mahaica Bridge.
Nevertheless, Ageday still has his sights sets on qualifying for the 2013 International Association of Athletics Federation World Champion-ships (IAAF) in Moscow and ultimately the 2016 Olympic Games in Brazil.