'Pocket Rocket' talks up chances against Allicock
Despite his losing record which stands at five wins, 15 losses and one no contest Orlando 'Pocket Rocket' Rogers is not giving up.
Rogers, in an exclusive interview with Stabroek Sport yesterday, said he has what it takes to defeat youthful Delon Allicock at Sunday night's Night of Champions 2 fight card.
The card, which is being promoted by Champions Promotions in association with the Guyana Boxing Board of Control (GBBC), Elton Dharry Promotions and Pearl Vodka is scheduled for the Cliff Anderson Sports Hall.
"You remember now he is a chatty, chatty youth so I need to zip him up a little bit," said Rogers.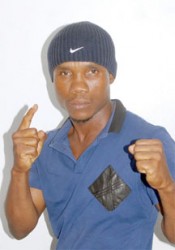 "He is now coming up and seeing me with one of my students I think that might give him some boost," he added.
Rogers said Allicock should not be deceived by his performance against  Richard Williamson, his student, as he was not fully prepared because he was mainly concerned about Williamson.
Rogers lost that six round bout by a unanimous decision last month at the same venue.
"But I will let Allicock see that I am a senior fighter to him," he declared.
Asked to describe Allicock as a fighter, Rogers said:"Allicock is more a boxer and you know he takes his time to get himself arranged to throw proper punches but I am a boxer/fighter. If you come to brawl, I will brawl and if you come to box, I box but I don't think he will get past me. He really has to work hard to do that."
According to Rogers he knows he can defeat Allicock after watching his student, Williamson defeat him in one of their encounters.  "So if my student could beat him, imagine what I could do to him."
Rogers and Allicock will battle in the bantamweight division over four rounds.
Rudolph Fraser on the other hand, said his opponent Dean 'Bad News' Burrell's record of seven wins with six knockouts does not intimidate him. Burrell will be fighting out of the United States of America.
"It's going to be a good fight and I am going there to win. He never fought Fraser, no matter who he fought before.
Fraser, who was at the time in training at the Andrew 'Six Head' Lewis Gym in Albouystown, said he is mentally and physically prepared for the fight.
"I did not prepare for this one, but I was training for whatever came along and God put this one I (my) way, but I am good," he said.
He added the first round will see him feeling out Burrell to see what he brings to the table before he decides how he will defeat him.
Fraser and Burrell will be fighting in the lightweight division over six rounds.
Other fights on the card will be Mahmood 'Extractor' Loul making his debut against Patrick 'Cow' Boston, Dexter Marques opposing Selwyn Lett of Barbados, Shawn Cox of Barbados battling Kwesi Jones and the feature event between WBC CABOFE Champion Elton Dharry and Rudolph Hedge of Jamaica.