Slingerz edge Beavers; Den Amstel claw Eagles
The Slingerz Football Club organised Stag Beer West Side Mashramani Knock-out tournament got off to an exciting start on Sunday last at the Den Amstel Community Centre with Slingerz FC and Den Amstel FC scoring wins.
In their debut tournament, hosts Slingerz FC secured a 1-0 win over Beavers while Den Amstel crushed Eagles Football Club 7-2.
Following the opening ceremony, which saw the tournament's first kick taken by Digicel's Marketing Director Jacqueline James, Slingerz FC went into action.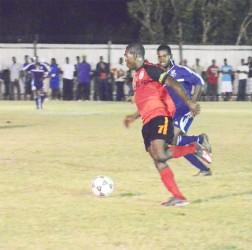 Though they controlled the game for most of the first half the score was 0-0 at lemon time with Slingerz custodian Ronson Williams enjoying an easy outing between the uprights.
Upon resumption Slingerz lost mid-fielder Shavane Seaforth who was shown his second yellow card and was sent off.
The stalemate continued u up until the 87th minute when Slingerz captain Dwain Jacobs skillfully evaded two defenders before powering home a left footer just outside the 18-yard box which had goal written all over it.
In the second game, Travis Hartman netted a hat-trick; Gavin Graham scored a double and Jeffery Pereira and Colin Wellington scored a goal each in Den Amstel's 7-2 whipping of Eagles.
Eagles' goal scorers were Marvin Frank and Stephon Griffith who scored in the 18th and 48th minutes respectively.
The tournament continues Friday at the Tuschen Ground with Seawall coming up against Stewartville at 18:00 hours while the second game brings together Uitvlugt and Young Achievers.