UG gearing to compete at UWI Invitational B/ball tournament in B/dos
The newly assembled University of Guyana (UG) senior basketball team is training assiduously to compete at the University of the West Indies (UWI) Cave Hill Invitational Basketball Tournament which will take place in Barbados from March 27-April 3.
Close to 20 players are currently training thrice weekly with coach Rudolph Sampson as the UG team prepares for the first outing. Sports coordinator Lavern Fraser-Thomas told Stabroek Sport that the intention behind the tour originally was to give the relatively young players exposure. However, Fraser-Thomas said that after realising that the campus has some of the country's top players vying for places on the team, she is confident that the UG team will be able to perform at a high level during the tournament.
"One of the main objectives of them being able to go and compete is in an effort to give them the opportunity to be exposed so that they can possibly be spotted to go to the next level. But with the presence of some of the more well-known players, like Akeem Kanhai, Shelroy Thomas and a few others the team is expected to be able to be competitive against the Barbados team," Fraser-Thomas said.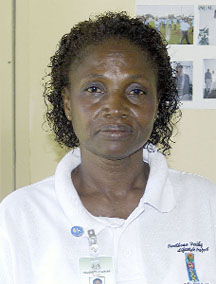 Apart from Kanhai, who is a senior national player for Ravens and Thomas, who plays division one for Colts, the UG squad also includes former junior national players Geoffrey Larose and Dwight McKinnon who played at the Inter-Guiana Games level. Other candidates Ruel Ritch and Selvaughn Moseley were members of the Marian Academy teams that won back-to-back Georgetown Conference titles.
According to Fraser-Thomas, the UWI Cave Hill team may be using to the tournament to prepare for a bigger, regional inter-collegiate tournament. Additionally, Fraser-Thomas, who is also netball coach, said that the UG team is also expected to tour Suriname in July and participate in other engagements in the near future.
The UG squad currently includes Selvaughn Moseley,Quincy Easton, Dwight Mckinnon, Fonsie James, Kevin Dey, Akil Lewis, Jonathon Pooran, Akeem Kanhai, Callace Tieschamaker, Shelroy Thomas, Geoffrey Larose, Leroy Bobb, Ruel Ritch, Boaz Wade, Devaul Wilson, Sevon Ferreira  andShaka Codrington.
Some of the players vying for a place on the final team of 12 were chosen from the university's Inter-Faculty Competition which was held late last year. Other players were members of the institution's junior (under 21) team that competed in the Youth Basketball Guyana league and related activities.