Election fever gives way to cricket buzz
ST.GEORGE'S, Grenada,  CMC-A large crowded is expected at the Chinese built state of the art national stadium in St.George's tomorrow to welcome the return of international cricket to the island after about four years, officials have said.
West Indies play Zimbabwe in the first of three One Day International matches, a couple days after a peaceful general election campaign which has brought about a change of Government.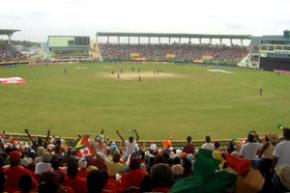 The Windies last played in the Spice Isle back in 2009 during a Test Series against Bangladesh and their return is being eagerly anticipated on the island.
"It is great to be back in Grenada as international cricket makes a return to Grenada National Stadium," declared WICB's Event Manager, Cindy McLean.
"The local association and organisers are working hard and we expect a great match on Friday to International Home Series off to a good start".
Officials are reporting a buzz in Grenada as fans look forward to seeing the West Indies players on show for the first time since their ICC World T20 victory in Sri Lanka last year.
Newly-elected Prime Minister Dr Keith Mitchell has also announced a Public Holiday on Friday following Tuesday's General Elections.
"The fans have been given a Public Holiday on Friday and we expect a bumper crowd for the start of the International Home Series here in the West Indies," McLean told WICB media.
"We know they will come out and 'rally round the West Indies".
Players and officials flew into the island earlier this week nearly unnoticed as  a majority of the 61 thousand eligible voters gave Dr. Mitchell's New National Party an historic 15 seat sweep in the elections to unseat Tillman Thomas's National Democratic Congress.
Prime Minister Mitchell was sworn in Wednesday in his second stint as leader and is expected to announce his cabinet early next week.
"The island has just come out of election mode and is now into cricket mode, and everyone is working in earnest as we prepare for the start of play on Friday," said Mclean.
"All the systems are in place for the beginning of what promises to be a great year of international cricket in the West Indies."
Zimbabwe last toured the Caribbean in 2010 when they played T20s and ODIs.
On this tour they will play three ODIs at the Grenada National Stadium, two T20s at the Sir Vivian Richards Cricket Ground in Antigua and two Test matches at Kensington Oval, Barbados and Windsor Park, Dominica.