Mahaica Primary among the winners
Mahaica Primary defeated Gibson Primary by 43 runs as Georgetown Zone action of the Ministry of Culture, Youth and Sports/National Sport Commission and AL Sport and Tour Promotions 16th annual end of school year Regional Primary Schools overhand wind ball cricket championships continued on Friday.
In the lone male encounter played at the National Park Tarmac, Thomas Lands, Mahaica, batting first amassed an imposing 113-0 from their allotted five overs with Adams stroking an unbeaten 59 while fellow opener Dale Ireland contributed 40.
Gibson Primary in their reply could only manage 70 runs for the loss of four wickets in their innings. Paul Benett top scored in a losing effort with 20 runs while Navindra Hemnauth and Andre Geer added 15 and 10 runs respectively for Gibson Primary.   In the girls' division, Clonbrook Primary 56-0 edged Ann's Grove Primary 54-0 by two runs in a battle of the East Coast teams. Soime Madaie and Adel Bauls were the chief scorers for Clonbrook with 29 and 20 runs respectively while Shemiaih Adams and Kimesha Gooding scored 28 and 13 runs for the losing Ann's Grove side.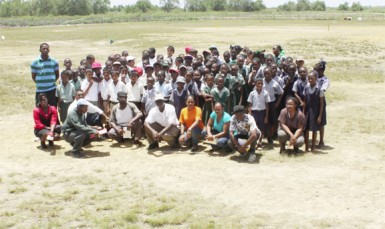 North Georgetown Primary 39-0 defeated West Ruimveldt Primary 28-2 by 11 runs. Khadija Gilhuys lead all scorers with 17 runs while opening partner Lataya Scott added 10 for North Georgetown. Atiba Menthis top scored for West Ruimveldt with 10 runs.
While in the final female game of the Georgetown leg, St. Agnes Primary 51-3 edged Thomas Moore Primary 50-2 by one run.
In the Region Five Conference played at the Seafield Ground West Coast Demerara, Novar 70-3 Primary defeated Woodley Park Primary 52-5 by eighteen runs. Kaif Shaw and Melroy Rutherford lead Novar with twenty eight and ten runs respectively. Naipaul Seagram was the pick of the Woodley Park bowlers with two wickets. Rondel Singh top scored for Woodley Park with eleven runs.
Seafield Primary 53-1 led by principal scorers Shokeem Booker and Dequain Soloman with twenty three and nineteen runs respectively defeated Number Five Primary 45-4 by nine runs.
Jamal Hugh and Jamal Johnson scored fourteen and eleven runs correspondingly in a losing effort while Delrico Griffith was the pick of the Seafield bowlers as he collected two wickets.
In the final male encounter, Woodley Park Primary 45-4 rebounded from their earlier loss to Novar Primary to defeat Ithaca Primary 42-4 by six wickets. Darnel Johnson top scored for Ithaca with nineteen runs. Naipaul Seagram was the best bowler for Woodley Park as he picked up two wickets.
Seagram would once again be at the fore of proceedings as he successfully anchored Woodley Park's chase, scoring nineteen runs in the process. Ronald Singh contributed eleven runs to the chase while Tjhorni Joseph picked up two wickets in a losing cause.
In the lone female game of the day, Number Five Primary 29-0 defeated Seafield Primary 27-0 by ten wickets. Gangadai Sebarrat top scored with twelve runs for the Number Five girls. Keshia Blackman and Ashley Manroop both stroked ten runs for the losing Seafield side.