Yaw records sprint treble as North G/town lift coveted Champion-of-Champions trophy
District Four's Jason Yaw, smashed the boys' under-18 400m record en route to recording a sprint treble but the category's champion boy's historic performances was not enough to prevent North Georgetown (District 11) from lifting the coveted Champion-of-Champions trophy.
For the second successive year and 14th overall, North Georgetown ran away winners of the Guyana Teacher's Union/Ministry of Education (MOE)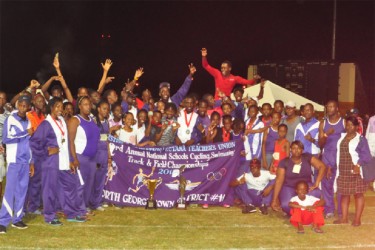 National School's Cycling, Swimming and Track and Field Championships.
The 53rd edition of the annual championships which concluded yesterday at the Providence National Stadium saw the defending champions amassing 65 points on the backs of several record breaking performances by some of the nation's budding stars.
Upper Demerara were the first runners up with 62 points. District 11's win broke the deadlock with their arch rivals. The standout districts were knotted on 13 wins apiece.
District Six (Corentyne) was third overall with 53 points.
While the overall honours went to North Georgetown, Yaw, the Carifta Games bronze medallist who anchored East Coast's 4 x 400m relay team to the gold medal, broke the 200m record and emphatically won the marquee 100m event to finish with four gold medals and a bronze was the talk of this year's championships.
Yaw's bronze medal came in the final of the Boys Open 4 x100 metres final which was won by North Georgetown.
The budding 17-year old track star from high Bladen Hall High School clocked 49.9 to erase the old mark (51.3) which was set last year by Shaquille Smartt one day after smashing the 200m record.
Besides Yaw's performances, the day's highlights included wins by the following athletes who also recorded trebles: Ornesto Thomas (District Four, 5000m Boys Open), Andrea Foster (District Four, 3000m Girls Open) Jamal Johnson (District 10, 3000m Boys under-16), Cassie George (District 10, 3000M Girls under-16), Jevina Sampson (District 11, 400m Girls under-16), Compton Caesar (District 10, 400m Boys under-16)
Other winners yesterday included: Selwyn Foster (District Four) 400m Boys Open
Shomane Daniels (District 11) 400m Girls Open, Avon Samuels (District 11) 400m Girls under-18.
With the heavy rainfall causing a late start yesterday, it was a busy day to finish 'Nationals' with one final after another in rapid succession.
Other results for yesterday included:
4 x100m Girls Open District 10 (The District 11 Girls did not take the field).
Cycling 
1500m Boys Open
Hamzah Eastman (District 11)
1500m Girls Open
Toshwanna Doris (District 11)
1500m Boys under-16
Romello Crawford (District Six)
1500m Girls under-16
Delicia Sarmento (District 6)
400m Girls Open 
Marica Dick (District 15)
Devil Takes the Hindmost Boys Open
Paul DeNobrega (District 13)
Devil Takes the Hindmost Girls Open
Marica Dick (District 15)