Commercial banks jittery over lending to agro-processing
The local commercial banking sector last Friday used the Guyana Marketing Corporation-sponsored Agro-processors Forum to restate its concerns over the risks associated with lending to a weak and underdeveloped agro-processing industry.
While the Guyana Agro-processors Association had earlier told this newspaper that access to funding continued to be the Achilles Heel of the sector, Guyana Bank for Trade and Industry (GBTI) Junior Manager, Leroy Adonis, speaking on behalf of the Guyana Association of Bankers told the forum that commercial banks cannot be expected to arbitrarily lower lending criteria set out in the local Financial Institutions Act.
Agro-processors have been amongst small businesses calling on commercial banks to offer less stringent lending conditions, however, the central thrust of Adonis' response centred on the local banking sector's primary obligation to protect the interests of its depositors.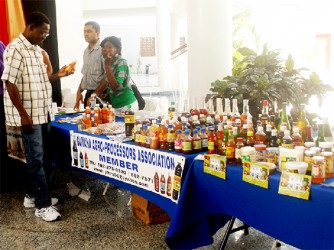 According to Adonis, the viability of commercial banks centred on identifying "vibrant projects" to which to extend lending since that course of action represented the best option for securing meaningful returns on investors' deposits.
And while Adonis' presentation provided no indication that commercial banks had closed their doors on lending to the agro-processing sector, the GBTI official made it clear that applicants for commercial bank lending would have to meet the banks' collateral criteria.
Meeting commercial banks' collateral requirements has been the key challenge faced by local agro-processors and the Bankers Association representative provided no indication that banks would ease those requirements. Adonis told the forum that in cases where land not owned by the applicant is being used as collateral in loan applications, the landowner must be part of the business venture.