Used car buyers could be vulnerable, consumers body officer says
- businesses to face prosecution over 'goods not returnable'
The change in official policy position on used car imports some years ago may have created a window of vulnerability that increases the risk of consumers being sold defective vehicles, Consumer Affairs Officer at the Competition and Consumer Affairs Commission Clifford Zammett has said.
"In a sense some consumers may now be more vulnerable," he told this newspaper.
Zammett explained that during the 1990s, there had been an adjustment to the regulations governing the importation of vehicles into the country. He explained that local motor dealers had lobbied government and that the lobby had resulted in a change in the regulations that allowed for the importation of used cars, as long as they complied with a certain age limit.
"Before that there was a specific requirement that cars be reconditioned so that what the change in the regulations meant was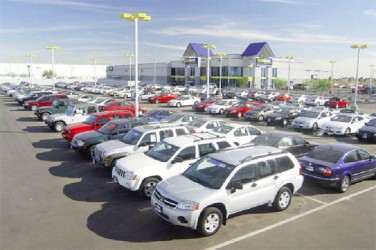 that some of the cars that started to be imported had been brought here most likely than not without any reconditioning work being done on them," Zammett said. He said there were current cases in which owners were now required to effect remedial work to cars much sooner after purchase.
Stabroek Business last week published an article following queries from consumers over what they said was ineffective representation in the face of supplier insistence on applying illegal 'goods not returnable'
stipulations on damaged or defective purchases. While Zammett conceded that the commission's sole office in Sophia was insufficient to cover the entire country he said visits to areas outside Georgetown had provided the commission "with a better sense of the need to take its services further afield. He said plans were in train to establish offices outside Georgetown and named Lethem as one of the areas where an office could be set up, "possibly in the near future."
Lethem had been identified, he said because very often consumers would only discover defects in commodities bought in Georgetown after they had transported those goods to the interior. "Once that happens the issue of how to get that defective item back to the city arises," Zammett said.
Zammett said that it was "disappointing" that some suppliers had not responded to the earlier approach by government to use "moral suasion to persuade some businesses of the importance of the rights of consumers. There used to be a time when there were punitive laws. It was left up to the business houses to accept and/or make restitution. Unfortunately, laws have had to be put in place to seek to ensure that customer rights are not trampled upon."
Meanwhile, Zammett told Stabroek Business that the Competition & Consumer Affairs Commission "takes with the utmost seriousness its commitment to consumers who are being short-changed by rogue suppliers. It is true that there are some pending complaints but there is reason to believe that some prosecutions are imminent. Perhaps when some of the delinquents are made to feel the full force of the law that may serve as an example to others," he added.