Machel ventures into fashion and chocolate
(Trinidad Guardian)  – Soca star Machel Montano has partnered with New Era, a global lifestyle brand, to launch five exclusive caps that will be sold during 2014 Carnival.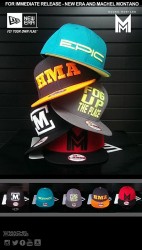 A limited-edition collection, only 100 of each design, are available to the public and will be sold at the Machel Montano store in Trinidad's Piarco International Airport. The collection features Montano's signature M and double M logos, as well as, logos from his current hit songs —Happiest Man Alive, Fog Up the Place, and Epic.
"Machel has been a longtime, avid supporter of the New Era brand," said Rennie Gajadhar, marketing manager of New Era Canada. "Naturally we are honoured to be aligned with such a globally recognised talent."
This comes in time for Montano's annual Carnival concert, Machel Monday on February 24 at the National Stadium. This year, the theme is Happy Nation.
Known for a diverse range of guest acts, this year's concert will be no different. This year, iconic R&B group Boyz II Men will be among the guests at the concert and they will perform Can't Let Go, a new collaboration with Montano.
Montano has also teamed up with Soular, the local artisan natural foods company. Fans will be able to sample their limited edition dark chocolate bar.
Soular, operating quietly out of the hills of Maracas Valley, has been concentrating on a small audience of discerning customers through the local gourmet and health food sector.
Michael Parris, one of the company's co-owners, spoke of the benefits of the link-up with Montano.
"It's a collision of two of Trinidad's greatest offerings to the world—our chocolate, our music. Machel's theme this year is happiness. And chocolate, unknown to many, is a natural antidepressant."
After Carnival, Soular will continue to offer its products—goods such as sun-dried bananas and cocoa nibs—through Machel's M Store in the airport and other select local outlets. But this project, the chocolate bar with Machel's image emblazoned on the front, is a Limited Edition for Carnival 2014.