Home for air crash victim well underway
A three bedroom building for Florence Tyndall, a 69 year-old woman whose previous home in Plaisance, East Coast Demerara turned to rubble when an aircraft crashed into it last year is 70 percent completed, according to the Ministry of Works.
The Ministry of Public Works (MPW) is shouldering the cost which is in excess of $10M, disclosed Howard Samaroo, the ministry's chief Building Engineer.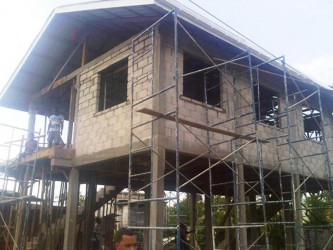 Photo shows the building under construction.
Most Read This Week