Carrots and beets harvested at the school of agriculture, NAREI
Agriculture Minister Dr. Leslie Ramsammy this morning witnessed the harvesting of the first batch of carrots and beets from demonstration plots at the Guyana School of Agriculture (GSA) and the National Agricultural Research and Extension Institute (NAREI), a release from the Ministry of Agriculture said.
This initiative by the Ministry of Agriculture is geared at intensifying its diversification programme of non-traditional crops all with the aim of reducing the country's dependence on the importation of key commodities. Presently Guyana imports about $200M worth in Carrots and Beets, the release said. The Ministry of Agriculture's aim is to end importation of Carrots and Beets by 2020.
This Ministry of Agriculture photo shows Minister Ramsammy with the carrots and beets.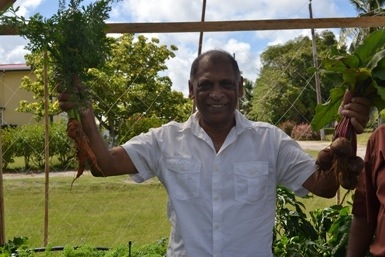 Most Read This Week