Bush Lot Rising Stars spreads holiday cheer 
While many persons spent New Year's Day with relatives and friends, the Bush Lot Rising Stars, First Division Cricket team chose to host less fortunate persons and provided them with tokens.
Several elderly folks and children of the Bush Lot, West Berbice community were served a delicious lunch and given gift bags containing clothing, footwear and other items.
They all received goodie bags while the children also benefitted from items such as school supplies,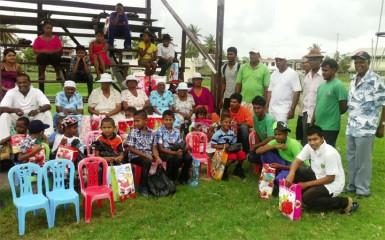 cups and plastic chairs. They thanked the team for remembering them and wished them continued success.
The team, along with president of the Bush Lot United Cricket Club (BLUCC), Rabindranauth Saywack and other members; Fazal Mohood, Rakesh Singh and Chitranjandas Nipikra concluded the event by visiting the homes of other elderly folks and presenting them with items as well.
Those persons, considered shut-ins were grateful for the gesture and some even became emotional that they were remembered.
Saywack told Stabroek News that the programme, dubbed, "Tribute to the Community," was "organized to show appreciation to the elderly persons in the village" said to be in dire circumstances.
It was also dedicated in memory of Abdul Azeez called 'Buddy Boy," former cricket legend and the oldest supporter of the team and his wife, Shanzul Azeez of Bush Lot.
The event, he said, also "served to inspire the young ones to take an education, stay away from drugs and alcohol and follow in the footsteps of the promising young cricketers."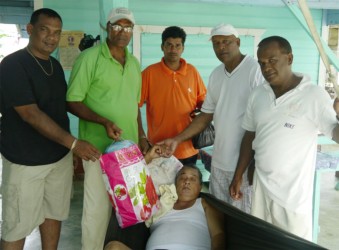 He said proudly that the 0team decided to host the event after it had reached the first division level, an achievement made through "our effort and hard work with the youngsters…"
He told the gathering too that, "This is the first time that the BLUCC has achieved the first division status under the auspices of the Berbice Cricket Board."
Saywack expressed gratitude to the children of the late Abdul and Shanazul Azeez for donating most of the items.
He also thanked SSAS Auto Trading for donating the chairs as well as other sponsors, including JS Trading, Danny's Jewellery, West Berbice Agri Sales, Chester Fried, Dinar Trading, the Loving Pharmacy and vegetable vendor; Harry Pitam.
Vice-captain of the team, Javed Saywack along with members; Bramdat Singh and Kris Ramnarine, in brief remarks, promised that next year the event would be "bigger and better."
They also encouraged the other youngsters to come out and join the team, instead of going on the wrong path.