Residents blame NDC for flooding at Charity, Pomeroon
After more than one week of flooding at Charity, Essequibo Coast and on the Pomeroon residents are fearful of the risk of disease and furious at the Neighbourhood Democra-tic Council (NDC) for what they believe to be negligence in maintaining drainage and irrigation structures at Charity.
Lana George, a resident of the Charity Extension Scheme said she is disgusted with her flooded yard.
"I'm very much disgusted and furious about what is happening to this community for the past two weeks. We have experienced heavy rainfalls before and it has never resulted in this amount of water and I think the NDC could have done a better job in ensuring the community is not flooded,"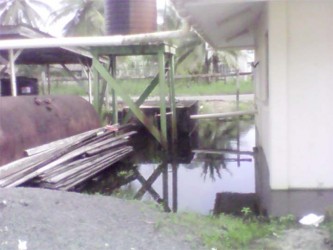 she said. The Charity/Urasara NDC serves that area.
The woman explained that the drains and trenches in her areas are choked with garbage. She said that if the trenches had been maintained, the water would have receded by now instead of lodging in residents' yards.
"I cannot walk in my yard without long boots because I'm afraid of diseases. The NDC is lackadaisical and should be held accountable for what is presently happening. This flood is posing very serious health hazards and risks because most of the people around here has pit latrines and the faeces are floating around the water which in turn contaminates the pipe water so we have to depend solely on the rain water. I want to know what the NDC plan to do to about the situation," George said.
Last Friday, NDC Councillor at Charity, Magbol A Basir told this newspaper that the pump was not working but it was expected to be back in operation shortly.
According to residents, a pump was dispatched to the area from the National Drainage and Irrigation Authority on Monday to pump out the excess water, but this was not done and the water remains lodged on the land.
Another resident of the Extension Scheme, Mr Hubert also lamented the seriousness of the situation.
"We have been experiencing (lodging) of water due to the negligence of the NDC in providing good drainage and irrigation. As a resident of the Housing Scheme, I'm disheartened with the way the NDC administrators deals with the drainage system. For the past four years we have been complaining about silt up trenches and we have had no justice and that is one of the main reason the (waterlogging) persists. Presently we are experiencing the flood because water still surrounds our houses which causes the mosquitoes to breed more and is hazardous to our health," he said. The man said the situation must be arrested now before it escalates.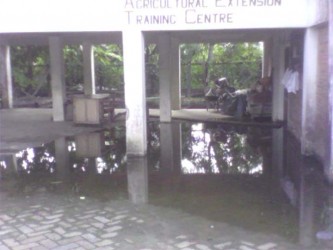 Meanwhile, when contacted by Stabroek News, Regional Chairman Parmanand Persaud said that he is aware of the flooding.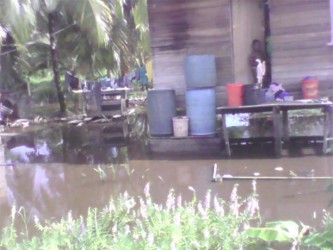 "I know that the Charity Housing Scheme is flooded and also the Pomeroon area and these floods are because of two things, rainfall and high tides. In the Pomeroon, because of the high tides, the water rebounds before it reaches the Atlantic Ocean so there is less draft so the flooding occurs. However in Charity, all the trenches lead to the river and the draft is less too. The pump was damaged and was taken to NDI in Georgetown and was brought back but because of the breach at Airy Hall, the pump was used there. We are hoping that today or tomorrow the pump can be brought back to Charity to pump out the water here," he said. (Kenesha Fraser)