No.77 Village man dies after struck by minibus
Moments after stepping off a minibus, a 43-year-old man was on Saturday struck down by the same bus and later succumbed to his injuries at the Skeldon Hospital.
Dead is Andre Phillips of 448 Number 77 Village, Corentyne. Police said that the accident occurred at around 4:40pm on Saturday on the main road at No. 53 Village, Corentyne. Investigations revealed that the driver of the minibus was reversing the vehicle when he struck down Phillips, the police said in a statement. The injured man was taken to the hospital where he succumbed while receiving treatment. The driver of the minibus is in custody assisting with the investigations.
An eyewitness recounted to Phillips' family that the man had just stopped off at Number 53 Village and was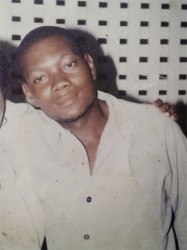 left standing on the road and the bus, BKK 6944, drove off.  However, the conductor of the bus signalled to the driver to stop and pick up a passenger. According to the eyewitness, the driver reversed to pick up the passenger and struck down Phillips. The bus reportedly also rolled over him. Following the accident, Phillips was placed in the same bus and rushed to the hospital.
Phillips' sister, Dianne Phillips-Garnett, recalled that around 5pm on Saturday, she received the tragic news from a friend. At the time, she was at the market and recounted that the girl told her "Dianne your brother reached up with accident and he at the hospital." The woman said that after receiving the shocking news, she rushed to the hospital and upon arrival there, she saw her brother receiving medical attention.  Phillips-Garnett said that when she consulted the doctor, she was told that they were preparing to transfer her brother to the New Amsterdam public hospital as he was in a critical condition. She recalled that while they were preparing the ambulance, she was informed that her brother had succumbed. "How the stretcher go into de ambulance so it come out," she said.
The woman said that she last spoke to Phillips at around 2pm on Saturday. "He was next to me in the market and then he disappear… not long after I saw him in a red bus…he wave and tell me bye," she recounted.
The sister further explained that her brother was venturing to a friend at Number 53 village. "He would normally go to the friend, spend two days and then come back," she said. The sister also stated that her brother lived alone at Number 77 village but would be at her home most of the time.
Family members said that they would like for justice to be served. Phillips leaves to mourn his two children, three grandchildren and five siblings. An autopsy is expected to be done today or tomorrow.