Nude body of missing Pomeroon woman found
The nude decomposing body of a woman was discovered around 10.30 am yesterday in a clump of bushes near the Dredge Creek Health Centre, Upper Pomeroon River.
It was positively identified as that of Judith D'Oliviera of Dredge Creek, Upper Pomeroon, who had been reported missing since December 26, 2013. Her reputed husband, Leroy John called 'Satan' has been taken into custody by the police at Charity.
D'Oliviera was a mother of three – two boys and a girl – none of whom lived with her. Her older son lives in the US, while her daughter and younger son live in Guyana.
She was last seen on December 26. She was reportedly taken to her residence by a boat driver who was hired by a cousin to take her home from Charity after she was sick. The woman, who had shared a common-law relationship with John for over two years, reportedly suffered nervous breakdowns.
According to the woman's sister Jennifer Dyal, D'Oliviera would "break bottle and so on the road".
She said her sister had complained of abuse, and had told a friend that John "use to cuff she up and take way she money".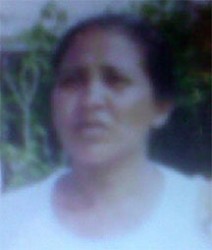 After the woman was reported missing, police had taken John into custody, but later released him only to hold him again yesterday.
Dyal said, "The last time I see her was on the twenty-second [December 22]. I come up from the river and we were sitting on the wharf talking and then she start to cry hard. So I ask her if she drink she tablets and she said yes. I still take her to the hospital and dey give she a injection. After that she went home back with Leroy."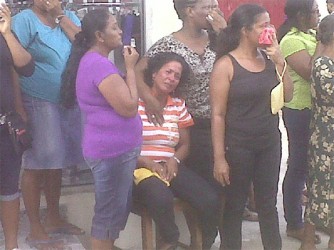 Between December 26 and yesterday, the police and relatives of the woman had been searching for her. Yesterday, it was her cousin Evon D'Oliviera, her uncle Vincent D'Oliviera and her nephew Mario Khani who came upon her body in the clump of bushes as they continued their search.
Dyal told this newspaper that she believed her sister had been dead since December 26.
D'Oliviera has left to mourn her three children, aged 22, 19 and 11 years old, as well as other relatives and friends.