Woodley Park girl, 5, struck down by car
A five-year-old girl of Woodley Park, West Coast Berbice remains in a serious condition after she was struck down by a car, PMM 2179 as she was returning home on the first day of school yesterday.
The child, Tiffany Seepersaud, a student of Woodley Park Nursery sustained head injuries and was rushed to the Fort Wellington Hospital in an unconscious state.
She was treated and immediately transferred to the Georgetown Public Hospital where scans and other tests were ordered. The accident occurred around 12:10 pm.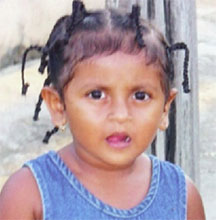 Relatives told Stabroek News that the child was in the company of an aunt who had also gone to pick up her own child.
They said too that a car that was parked on the road pulled off suddenly at a fast rate, just as the girl decided to run across the road. A relative claimed that she was hit on the pedestrian crossing.
According to them, she noticed her mother Mala, two older cousins as well as her grandmother with whom she lives, coming out of a bus and she apparently "got excited…"
She was struck in the middle of the road and landed on the bonnet of the car before being flung off a good distance away.
The relatives started to scream as they rushed to her assistance. She was bleeding from the wounds to her head and one on her right ankle.
The driver of the car assisted in taking the injured child to hospital. Distressed relatives are praying that her condition would improve.