Accused teen molester charged in 2-year-old's death
Almost three months after a two-year-old girl died in the wake of a sexual assault, a teen was yesterday charged with her murder and remanded into police custody.
The teen charged with the murder of Kimanie Watson appeared in the Vigilance Magistrate's Court before Magistrate Zamilla Ally, a senior police official confirmed. He was not required to plead to the charge.
The charge would have been laid on the recommendation of the Director of Public Prosecutions (DPP).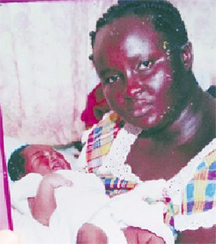 On October 21 last year, Watson died at the Georgetown Public Hospital, where she had been rushed by relatives after she collapsed at her home after a sudden bout of diarrhoea. A post-mortem examination that was subsequently performed revealed that she had been sexually abused resulting in her anus becoming dilated. The cause of death was given as haemorrhaging and shock caused by multiple abdominal injuries.
Relatives had said that the toddler would usually be left at home with her grandmother while her mother was at work. However, on the day of her death she was left in the care of a male.
After the police suspected that the child was sexually molested, they had detained the male but released him after 72 hours on $25,000 bail.
The issue had also grabbed the interest of the Child Care and Protection Agency (CC&PA), which has launched its own investigation into the child's death.