New Leonora court building commissioned
The newly-built Leonora Magistrate's Court was yesterday commissioned in a simple ceremony at its location on the West Coast Demerara.
Chief Magistrate Priya Sewnarine-Beharry, who chaired the proceedings, noted that the provision of such facilities contributes greatly to ensuring that justice is served.
She added that with the new building, greater productivity can be achieved by staff utilising the facility.
The Chief Magistrate quoted Malta's Chamber of Advocates President Dr Rueben Balzan who recently underscored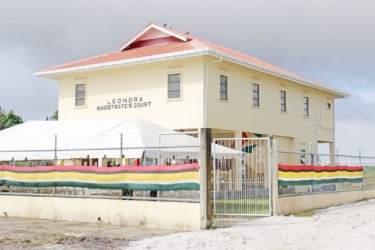 the crucial importance of investment in the justice system. "In contemporary democracies, justice systems have a central position among public institutions as autonomous and independent branches of the governments.
An independent and effective justice system not only provides a safeguard for human rights, but also for other aspects of life in society crucial to the well-being of individuals, businesses and organisations," she quoted Balzan as saying.
To this end, Magistrate Sewnarine-Beharry said, the creation of a positive environment to conduct the business of the judiciary cannot be underestimated.
Expressing gratitude to the government on behalf of the magistracy, the Chief Magistrate noted that yesterday's event followed of the Mibicuri Magistrate's Court as well as many others. It also and preceded the reopening Georgetown Magistrate's Court at its Avenue of the Republic location, slated for Monday, she added.
Meanwhile, delivering the feature address, President Donald Ramotar said that the new building marks a step towards improving the quality of life of Guyanese and an improved magistracy.
He said that millions have been spent on legal aid over the years to ensure access by all to justice; especially those who are financially disadvantaged.
Echoing sentiments of the Chief Magistrate, the President said the courts are important and therefore must be maintained since they protect the constitutional rights of citizens and acts as the custodian of the rule of law.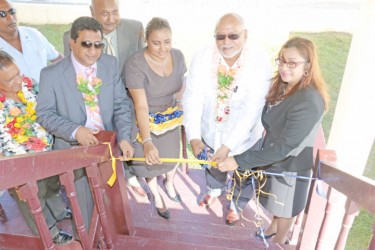 Stressing its important correlation to economics, Ramotar opined that in the absence of justice, law and order; it would be difficult to attract investors to aid development in the economic sector.
He said that as his government embarks on continued steps to ensuring development of the legal affairs sector, he hoped justice would be dispensed with expedition in strict adherence to the separation of powers doctrine.
Now that the staff of the court has been provided with a new building full eight-hour days of work should be a mark to be aspired to, Ramotar said, chuckling.
In his vote of thanks, Magistrate Clive Nurse, who presides at the Leonora Magistrate's Court, thanked the government and all stakeholders for providing the new building.
The ceremony, which lasted about an hour was also attended by Acting Chancellor of the Judiciary Justice Carl Singh, Minister of Legal Affairs Anil Nandlall and Regional Chairman of Region Three Julius Faerber, among others.
Prayers were offered by members of the Christian, Hindu and Muslim religious communities.