Fire at Topoo leaves six homeless
Six persons are now homeless, after fire gutted a two-storey wooden house at Topoo Village, Albion, Corentyne Berbice.
The fire of unknown origin began at around 10 pm on Thursday in the rear section of the home. Indranie Deodat, a vendor of Rose Hall Town market, who dwells in the home, told Stabroek News she and her family were sleeping when the fire started. The woman related that they were awakened by neighbours who saw the fire.
Deodat said she called for help as they fled the house and public-spirited citizens formed a bucket brigade and tried to put out the flames. Their efforts were in vain.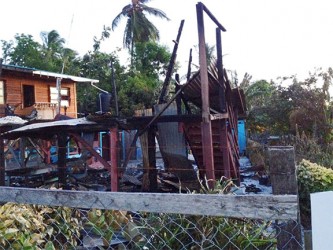 Sumesh Deodat, another occupant, further explained that when the fire service arrived on the scene approximately half of the building was already destroyed. He said the fire service responded within 25 minutes. Sumesh Deodat said the fire fighters turned their attention to another building in the same yard and managed to save it.
Meanwhile, an eyewitness said he looked out his window and saw the house on fire. He and other neighbours then raised an alarm and the Deodat family rushed out of the house which was soon engulfed in flames.
The family estimated losses at approximately $4 million.
Deodat said the house was well-appointed with modern furnishings.
The family will move into the other house that was saved while deciding what to do next.
Deodat said the gutted house was around for approximately 50 years and the family had called it home for 22 years.
Most Read This Week