Linden businessmen prepared to invest $500m in industrial complex – Solomon
By Jeff Trotman
Businessmen in Linden are prepared to collectively invest $0.5B in 2014 to develop an industrial park and commercial complex along the Amelia's Ward stretch.
Regional Chairman for Region Ten, Sharma Solomon made the disclosure on Thursday during his report at the RDC's first statutory meeting for 2014. He said on the previous day, he participated in a meeting with local businessmen, who indicated a willingness to collectively invest around $500M in the venture,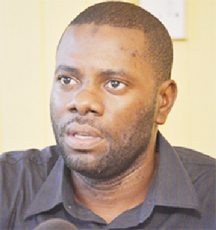 which would include furniture manufacturing, car rental, a mini mall, auto sales, a tyre mart, wash bay, garage, general store, mechanic shop, mining equipment distribution, lumber and hardware depot, a private hospital and a processing plant.
He said the Region is embarking on several economic initiatives through its Economic Committee.
Solomon said these initiatives include the establishment of a television station within the Region and the implementation of the Region's Resource Management Unit as the Region moves to manage resources such as laterite, loam and sand that would provide a financial base for it.
During a press conference on Thursday, Solomon said the Region will soon be making public a layout of the first set of complexes that are earmarked for the Amelia's Ward Area where local businesses are prepared to inject around half a billion dollars in the initial stage.
According to him, this economic drive for local businesses to occupy industrial and commercial plots is earmarked to create over 300 jobs for people within Linden. "Outside of the national budget these are some of the areas that the Region intends to raise the type of resources for implementation," Solomon said, adding that the meeting, which was held on Wednesday and was organized by the Linden Chamber of Commerce, brought out the importance of the acquisition and distribution of land for the development of Region Ten, particularly, Linden.
He noted that the Region has been discussing an economic committee programme with the government but it has been experiencing "slow movement". The Region Ten Chairman expressed the hope that the programmes of that committee will be incorporated for  joint implementation with the Linden Chamber of Commerce.
He referred to a Linden– Lethem Program-me which was done by the Region and the Linden municipality through the Linden Economic Ad-vancement  Programme some years ago. Solomon said there are other projects that have been identified around the region for over half a century, including bauxite development, Brazilian input in the economic and industrial development of Region Ten as well as agricultural development, value added and agro processing.