Chopped cop undergoes surgery for severed knee
Audwin Amsterdam, a young police constable who was attacked by his neighbour on Sunday, yesterday underwent surgery at the Georgetown Public Hospital for a severed right knee.
Amsterdam is recovering in the Male Surgical Ward. The policeman said he was standing outside his car at his home in De Kenderen, West Coast Demerara when someone lashed him in his back. "I feel like someone was behind me and then when I turn I see him and he daelt a lash in my back with the cutlass," he said.  He added that he tried to get away but the man kept on waving the cutlass and charging at him. "Then I fall down and he start to chop my knees and the car."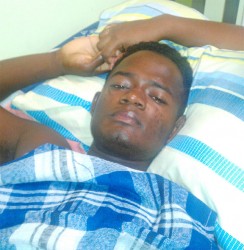 Amsterdam stated that he had an argument with the man on Boxing Day last year about a fence, noting that his neighbour broke down the fence.
Amsterdam and the man had various court cases in the past.
After the chopping on Sunday Amsterdam's attacker was arrested and remains in custody.