Teens nabbed with M-16 assault rifle, grenades
Two 17-year-olds were arrested yesterday by police after they were found with a rifle and grenades while walking down Aubrey Barker Road, South Ruimveldt and the police later shot and killed three dogs at the home of a suspect in the area.
According to a police press release, around 11:15 am ranks of a police motor cycle Anti-Crime Patrol had observed "two men" walking along Aubrey Barker Road, South Ruimveldt when one of the men threw away a bag that he had in his possession.
The police, upon retrieving the bag, discovered a M-16 rifle along with two magazines and 60 rounds ammunition, a fragmentation grenade and a concussion grenade. The men were arrested and taken into custody to assist with the investigation, the release.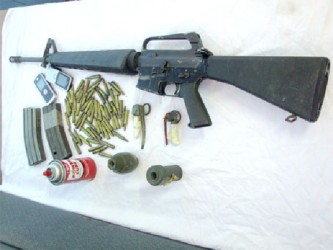 A senior police official told Stabroek News that both of the "men" were both found to actually be 17-year-olds. The officer also disclosed that upon acting on information received, police proceeded to the house of a suspected accomplice, but were unsuccessful in finding the individual.
Residents of Festival City Exit said that they saw three pickups loaded with police officials stop in front of the suspect's home. Lawmen scaled the gated fence, which was locked, and started to shoot at the suspect's dogs, killing them before breaking the man's door open.
One resident said that the police stormed into the house afterward and when they discovered no one was home they picked the dead canines up and threw them into one of the pickups.
"I heard the gunshots from the other street and someone told me that police shooting dogs and then when I go I see one of the dogs—she was pregnant—dead on concrete in the yard," an eyewitness said.