[Video] Anthony assured goats not slaughtered at Sports Hall
Minister of Culture and Sports Dr. Frank Anthony yesterday told the National Assembly that enquiries he directed into the claims that goats were slaughtered at the Cliff Anderson Sports Hall proved them to be untrue.
He made this disclosure in response to questions from APNU Member of Parliament Christopher Jones despite photographs published in the local media showing the aftermath of the slaughter of the animals at the public recreational facility.
Jones' questions stemmed from the photographs and he also noted that eyewitnesses have said that a vehicle bearing registration number PGG 9139 was used to transport the slaughtered animals. Upon his own investigation, he said, it was found that the said vehicle was registered to the National Sports Commission.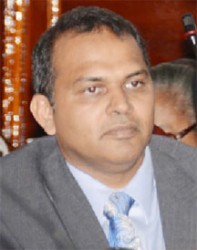 While stating that he had not personally read any media report on the alleged slaughtering of goats at the facility, Anthony said that he still asked personnel from his ministry to look into the matter. The report back to him claimed that the media reports were not true, he said. "One of the things I did when I heard about the article is to enquire about what was alleged. The persons that I enquired from, they assured me that there had been no slaughtering … at the Cliff Anderson Sports Hall," he said.
When asked by Jones if in addition to sports the Cliff Anderson Sports Hall could be used to slaughter goats and other animals, the minister said "No. We do not give permission for any animal to be slaughtered."
Anthony was probed further and asked if anyone from his ministry gives permission to have animals slaughtered at the Sports Hall. He was told that eyewitnesses placed Director of Sports and MP Neil Kumar at the scene of the slaughter, to which a vocal Kumar shouted, "That is a blatant lie!"
Anthony maintained, "Nobody from the Ministry granted permission for goats to be slaughtered at the Cliff Anderson Sports Hall."
Video:
Meanwhile, the minister also responded to a question posed by Jones on fees charged to clubs and groups for the utilisation of the Sports Hall. He said that there is a standard $50,000 for commercial activities but that clubs could use the facility for free.