Acme Photo Studio downsizes
- as access to digital photography grows
With the wide availability of digital cameras and camera phones, Acme Photo Studio has been forced to downsize its business operations, according to General Manager Anika Hinds.
"Since Acme's main source of income was based on photography, we had to move forward with the times," Hinds told.
In the past, she said, customers would go to Acme to have photographs shot and printed. Now, with the proliferation of camera phones and hi-tech digital cameras readily available, persons would seldom visit the photo studio to have their pictures taken.
As a result, Hinds said that the company decided to downsize its business operations and confine all operations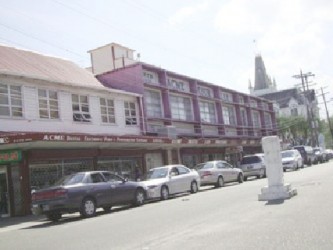 to one section of its Regent Street building.
The rest of the currently unoccupied sections of the building are up for rental or sale. She said that the company has no intention of getting rid of the household name and plans to still keep it operational.
She added that whoever buys or rents the building will have access to the entire building except for the section still occupied by the studio.
Last year on the Stabroek News website, the owners had advertised the 21,000 square feet property located at the corner of Regent and King streets for sale for $100 million.
When this newspaper visited Acme, Hinds pointed out a new addition to the company's operations, where customers can have their pictures printed from their memory cards and other storage devices. "People can just come in and insert their storage device and the print whatever they want to print, themselves," Hinds added.
The photo studio, which was established in 1935 by Ashraf Ali, was one the first of its kind in the Caribbean and became a household name. According to a brief company biography on its website, Acme was "the first to show motion picture, the first to produce coloured photographs in the West Indies in 1957, the first to start scenic photography and the first to start photo engraving, a process used to make printing plates to reproduce photographs in black and white for the newspapers." It said the company was also the first to introduce digital imaging.
In addition to photo restoration and manipulation and graphic design, the company retails digital cameras and office supplies, among other items.
Most Read This Week