Four face charges after $5M Amelia's Ward robbery
Three men were yesterday read multiple armed robbery charges and another was charged with possession of an unlicensed firearm following last week's  attack at South Amelia's Ward, where a family was held at gun point and over $5M in cash and valuables were carted off.
Wesley Griffith, 19, Nellon Brumell, 27, and Ruel Williams, 32, stood accused of six counts of robbery, committed at South Amelia's Ward, January 31 on the Ramdeholl family when they appeared at the Georgetown Magistrates' Courts. In addition, Griffith and Clifton Oram, 31, were charged with the possession of an unlicensed shotgun and ammunition.
They were all remanded to prison.
Griffith, of 311 Determa Street, Mackenzie, Brumell, a porter of 27 Kara Kara and Williams, a taxi driver, of 657 Industrial Area Mackenzie, were not required to plead to the charges against them.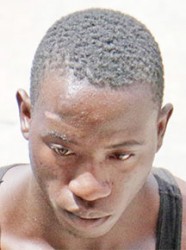 It is the police's case, that the three men entered the Lot 775 Amelia's Ward home, held the household at gun point and robbed everyone. The three allegedly robbed Martina Ramdeholl of $4,000; Nafeeza Ramdeholl, of a $27,000 gold ring, a $40,000 gold chain and a BlackBerry valued at $40,000;  Lalta Ramdeholl, of a $60,000 gold chain, an iPhone valued $125,000, a $28,000 gold ring and $15,000; Ryan Ramdeholl, of a Samsung Galaxy phone valued $120,000, a gold chain valued $60,000 and $280,000; and Koolhanie Ramroop, of two gold rings, valued $50,000; and Devanand Ramdeholl of a motor car PRR 4501 valued at $3 million and $335,000 in cash and kind.
According to a police report on the crime, read by police prosecutor Michael Grant, Griffith, Williams and Brumell entered the Ramdeholl home at about 20:20hrs on January 31, held everyone in the house at gunpoint and demanded cash and jewellery, before making good their escape. Grant said police, acting on information, recovered Devanand's car the same night it was stolen, at Amelia's Ward. Investiga-tions, he said, led to the arrest of Griffith and Brumell, who gave police information leading to Williams' apprehension. Williams, Grant said, was found with a cellphone that belonged to one of the victims.
Meanwhile, Griffith and Oram, of 280 Determa Street, Mackenzie, Linden, pleaded not guilty to the allegation that they had in their possession, an unlicensed firearm and three 12- gauge cartridges.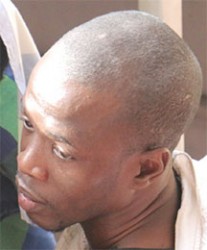 It is the police's case that Griffith, while in police custody at the Mackenzie Police Station, on February 2, told a police officer where the gun used in the Amelia's Ward robbery was. Prosecutor Grant said Griffith took the police to Oram's home, where they met him in the yard. Griffith allegedly led the police along with Oram to the hood of a car parked in the yard, where the gun was recovered. Grant added that Oram admitted that he used the gun in the robbery and was arrested at that point.
Attorney Gordon Gilhuys, who represented Williams and Griffith, told Chief Magistrate, Priya Sewnarine-Beharry that Griffith was given a sound beating by the police. He added that Griffith is now unable to hear from one of his ears.
Gilhuys asked for bail for his clients, saying that they were not flight risks. However, Grant immediately objected to all four men receiving bail, citing the nature and gravity of the allegation, prevalence of the offence, the fact that a gun was used in the crime and the likelihood that the accused may not appear in court if released. Grant told the Chief Magistrate that Griffith was wanted for a series of robberies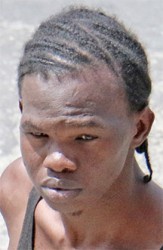 on the East Coast of Demerara. Brumell, he added, has a pending matter at the Christianburg Magistrate's Court.
Subsequently, all four men were remanded to prison and proceedings against them were adjourned until February 11, when they would be heard at the Christianburg Magistrate's Court.