Driver in Liliendaal fatal accident was under the influence
A Post Mortem Exami-nation (PME) is expected to be conducted today on Lovina Williams, who was struck down by a motor vehicle on Wednesday night.
Police said that at approximately 9:50pm on Wednesday night, Williams, 37, of Melanie Damishana, East Coast Demerara was walking along the Liliendaal Public Road when she was struck down by a motor vehicle.
It was further stated that she was pronounced dead on arrival at the Georgetown Public Hospital. Police also say that the driver of the vehicle was found to be over the legal limit for alcohol consumption.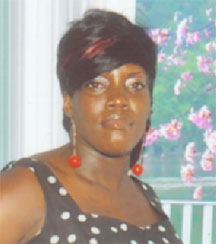 He is presently in police custody assisting with investigations.
According to reports, Williams, a former receptionist of the City Holiday Inn, had just come off of work and was awaiting transportation to get home when the vehicle GMM 4626, which eyewitnesses said was speeding, slammed into her after the driver lost control of the vehicle.
He subsequently plunged into a nearby drain.
An eyewitness said that the driver of the vehicle ran a stop light and sped along the road way before hitting the woman.
She leaves to mourn her husband, Collin Williams and her relatives. She was described as a peaceful, quiet and friendly person.