Backer's resignation a blow, replacement being mulled, Granger says
-Bulkan promoted to front bencher
While calling the resignation of former front bencher and Shadow Foreign Affairs Minister Debra Backer a blow, APNU leader David Granger has announced plans to promote MP Ronald Bulkan to its front benches, while efforts are underway to identify the latest addition to its parliamentary roster.
The announcement was made yesterday by Granger during the coalition's weekly press briefing.
Backer tendered her resignation this past week following her illness. Though she has returned from abroad where she was receiving medical attention, she has decided to resign from parliamentary duties. It is unknown what role she will continue to play, if any, within the ranks of the PNCR. Her resignation took effect yesterday.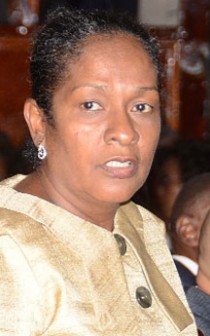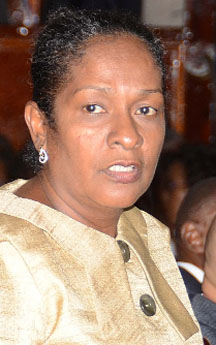 Backer's resignation is a blow to APNU, Granger admitted, while noting that she was his main advisor on National Assembly Standing Orders and an avid researcher whose work was invaluable to the coalition's decisions. Granger himself and MP Africo Selman would be assuming responsibility for foreign affairs for APNU with her resignation.
Granger, however, used the opportunity yesterday to announce Bulkan's promotion to the front benches. His portfolio as Shadow Local Government Minister is the primary reason for his upgrade in seating arrangements. Granger said that with local government elections seemingly on horizon, Bulkan's role is set to become more pronounced.
With Backer's resignation, the one-seat majority of the combined opposition – the AFC and APNU – is temporarily diminished until a caucus of APNU's member parties is held to decide on a replacement, Granger said.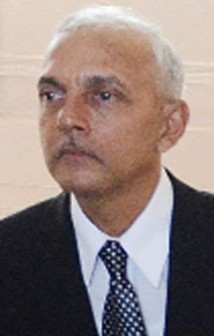 He also explained that the coalition is looking at a variety of people within the PNCR's ranks to replace Backer. Backer's seat is a PNCR seat and must therefore be filled by another member of that party, it was noted.
Despite their reduced numbers though, the absence of a 33rd member will not impede the combined opposition's advantage in the National Assembly thanks Standing Order provisions.
Standing Order 48 (3) says: "A speaker elected from among persons who are not Members of the Assembly shall have neither an original nor a casting vote and if, upon any question before the Assembly when such a Speaker is presiding, the votes of the Members are equally divided, the motion shall be declared lost."
Backer also functioned as Deputy Speaker of the National Assembly. In her protracted absence, prior to the announcement of Backer's resignation, this role has been played by APNU MP Keith Scott and PPP/C MP Bibi Shadick.
The combined opposition will have to decide who will fill this position. At this time though, aside from determining that the position will be filled from the opposition's ranks, Granger said the coalition has not decided on a replacement.