Canada gifts kits, training to detect forged documents
Transnational organised criminals will be under closer observation thanks to the contribution of 200 fraudulent document detection kits to the Guy-ana Police Force (GPF).
The donation by Cana-dian High Commissioner Nicole Giles was borne from a need to tackle the threat posed by fraudulent documents.
"Fraudulent identity documents pose a threat to the integrity of national borders and to national security around the world," Giles said at the handing over yesterday morning at the Guyana Police Offi-cers' Training Centre. "The international community has learned the hard way that international threats demand an international response," she noted.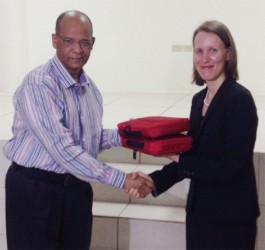 The kits will be used for the detection of fraudulent documents including passports, visas, birth certificates and other official papers and include portable magnifiers and handheld black lights.
According to Force Training Officer Senior Superintendent Paul Williams, the kits will create a level of competency for on the spot detection, improve the level of investigative capacity and will serve to minimise passengers' delays during processing.
Minister of Home Affairs Clement Rohee noted that fraudulent practices have been around for a long time and opined that criminal activities have become even more modern and sophisticated. To combat this, he said, those fighting against it must become modern and sophisticated as well.
Along with the kits, four days of intensive training will be provided for the detection of fraudulent documents. According to Giles, the training goes beyond the theoretical aspect as officers will be trained in the use of the very equipment they will be using in the field.
The training programme will focus on maximising visions, skills and art for enhancing leadership for a modern Guyana Police Force and will be conducted in two batches of 35 trainees each. Participants will include officers from the GPF and Customs Department.
In October of last year, the theoretical aspect of the training was conducted with a number of police and customs officers and other trainees completing it successfully. Several of the successful trainees received certificates yesterday.
Commissioner of Police Leroy Brumell thanked the Canadian High Commis-sioner and urged the trainees to use the training efficiently and effectively.
"Any amount of training that this force gets is invaluable," Brumell said. "We have to develop people and as this force moves forward training is very, very important to us."