Parents withdrawing students over feared collapse of $77M Rupununi school
-repairs needed just one year after construction
Just over a year after being completed, the $77.7 million Sand Creek Secondary School in south central Rupununi has developed major cracks in the building and parents fear that the building could collapse, a resident of the area has said.
Region Nine Chairman Wilson Laurentino, in a brief comment to Stabroek News, said that he has heard of the problem and the Regional Executive Officer had related to him that a contract has been awarded for repairs to be done. Stabroek News was unable to contact Minister   of Education Priya Manickchand for comment on the situation.
A resident of the area, who asked not to be named for fear of victimisation, told Stabroek News recently that the work done was not up to standard and there are a lot of cracks in the walls as well as the concrete beams and door frames. "Although there is no rain, those things rotting away," the resident said.
He said that parents are concerned and letters and a petition were sent to the ministries of Education and Amerindian Affairs but they got no response and nothing was done. Recently, he added, a team from the Ministry of Amerindian Affairs visited the community and said that they will look into the matter.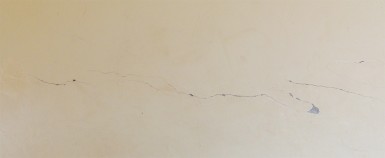 According to the resident, they "have been writing letters for some time now" and two parents took their children out of school because they did not feel that it was safe for their children to be under those conditions. At one point, he said, the headmaster moved a few classes to other rooms but more cracks are continuing to develop.
The resident said that during construction, in the rainy season, a lot of cement was destroyed and what was used was of poor quality while the type of sand used was also an issue. The school accommodates about 200 students, he said.
He said that parents are extremely concerned. "They fear that the building is not strong and anytime it could collapse…it's a huge part of the school…it's a two-storey building. If it collapse, it's a huge part of the building that could fall," he stressed. Parents want a speedy solution to the problem because the building is new and "already it's breaking down," he said while calling on the region and the ministry to rectify the problem.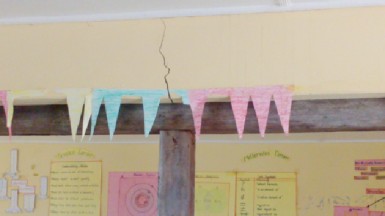 The resident noted that cracks are continuing to develop in the building and some children want to leave. He said that it was shortly after the school opened, that the cracks start to appear and "it keep happening all the time." The Government Information Agency (GINA) had reported that the Sand Creek Secondary school officially opened its doors on September 3, 2012. The school, a two-storey building, has 15 classrooms, two laboratories, administrative office, Home Economics and Industrial Arts Divisions and a computer room. Housing is also provided for teachers, GINA had reported.