Marian Academy blood drive collects 168 units
The Marian Academy annual blood drive on Saturday secured 168 units of blood for the National Blood Transfusion Centre, a little below its record breaking 202 units last year but providing a not insignificant boost for the blood bank.
According to a press release, the school has been hosting a blood drive every year around Valentine's Day since 2007.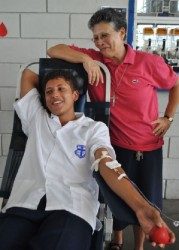 Expressing thanks to donors, the school noted that the major drivers in the activity continues to be its primary and secondary students, who mobilize teachers and fellow students in the school as well as among family members, friends, neighbours, past students, past parents among others to donate.
The students also prepare posters, banners and thank you cards, in addition to volunteering as hosts on the day of the drive, guiding donors through the process, documenting it and serving refreshments. The release noted that a blackout around 4 pm, coupled with approaching bad weather ended the blood drive prematurely.
The Marian Academy 8th annual Blood Drive was held under the theme, 'Help save a life + Give the gift of blood'.
Most Read This Week