Berbice Bridge Company sponsoring Mashramani spelling bee
The Berbice Bridge Company Inc (BBCI) is showing its support for this year's Republic Day celebrations by sponsoring a Spelling Bee competition in Region Six.
On Friday, the BBCI presented a cheque valued $238,000 to the Region Six Masharamani Committee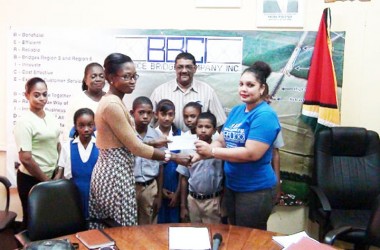 in support of the competition. In a press release, BBCI said the Region Six National Events Commit-=tee had requested the company's support for its Masharamani 2014 programme and it took a decision to sponsor the Spelling Bee.
The company said it has sponsored a number of other events and donated trophies for both the 2013 and 2014 Mashramani programme. It noted that it had donated a sum of money to the New Amsterdam Mashramani Committee, a trophy to the Region Five Department of Education for its Regional Children's Masharamani Costume Competitions, among other forms of contribution. In addition, the BBCI has also supported the Education Ministry over the years by donating trophies to schools and technical institutions, waiving toll charges for school tour buses traversing the Berbice Bridge, among other things.