Coach dies instantly in truck accident
A local football coach was killed instantly this morning after a speeding truck ran over his head on Mandela Avenue in the vicinity of the Gymnasium.
Dead is Peter Lashley, a coach of GFC.
Reports are that the man was riding a motor cycle around 7 am when the truck hit him from behind. His head was later smashed by one of the truck's wheels. The truck driver is in police custody.
One passer-by recalled Lashley being cradled by a sobbing man moments after the accident occurred.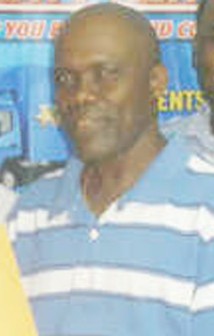 The police this morning issued the following release on the accident.
The police are conducting investigations into a fatal accident that occurred at about 0630h. today Friday February 14, 2014, on Mandela Avenue, Georgetown, and which resulted in the death of motor cyclist Peter Lashley, 54 years, of Tuc-Ville, Georgetown.
Investigations so far have revealed that Peter Lashley drove out of the Meadow Brook access road and allegedly failed to stop and was struck down by a motor lorry that was proceeding along Mandela Avenue.
The driver of the motor lorry is in police custody assisting with the investigations.