Cops trying to tie up loose ends in Sanasie shooting
As investigations continue into the attempted murder of auto spares dealer Deokarran 'Ram' Sanasie, police are currently looking for a local man who may be able to tie up some loose ends in the investigations, a source close to the case said.
Stabroek News understands that investigators have information as it relates to the identity of that person.
According to a police source, a  female relative of Sanasie and her brother remain in police custody as investigating ranks attempt to confirm allegations that they had hired persons to kill Sanasie. The source added that a relative who was privy to the plans before it was carried out is also an important element in the case. However, this person is overseas, and investigators are having difficulty in this regard.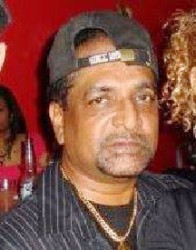 The source further added that Sanasie is currently in hiding as he is fearful for his life.
Sanasie, 58, of Lot 129 Atlantic Gardens, East Coast Demerara was shot on Friday evening by a man who approached him and discharged several shots while he was drinking with persons in the vicinity of his business place, Ram's Auto Sales on Fourth and Light streets, Alberttown.
He was rushed to a private city hospital. He sustained wounds to his left thigh and abdomen.
A source had said that two young men had ridden up on a CG motorcycle and fired three shots, all of which hit Sanasie, leading them to the belief that it was an execution-style attempt
Meanwhile, a close relative told Stabroek News that the entire incident has left the family feeling humiliated. The woman who did not want to identified, said that her two relatives who are in custody are being "framed". She acknowledged that while her male relative sold all of his assets to move to Guyana, he did not do so because he wanted  money to carry out a `hit' on Sanasie, but he did so because, "he liked what Guyana has to offer and the country's advancement…He only came to Guyana on Saturday morning and he was arrested on Saturday evening…Two innocent people are going to go to jail for nothing," the woman said.
This newspaper understands that up to late yesterday afternoon, the two remained in police custody.