Spiritualist still in custody over murder
The suspect in the murder of 20-year-old Dinesh 'Kevin' Harrylall at D' Edward, West Bank Berbice on Sunday night remains in custody as investigations continue.
Police are awaiting the results of a post-mortem examination before instituting charges.
Harrylall of Woodley Park was found lying face up on a carpet with a gaping wound to his right temple and across his forehead. He also sustained seven stab wounds to his back and his right hand was "black and blue."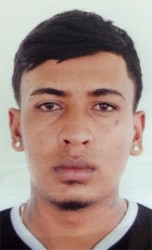 A blood-stained rolling pin was found in the kitchen and a knife that also had blood was recovered in a Kali temple attached to the friend's house. The friend, a spiritualist, had invited Harrylall to his home.
Harrylall's father, Raymand who dropped his son to the house around 10:45 pm said that around 12:40 am on Monday he woke up to the sound of a vehicle blowing in front of his house. He looked out and saw another of his son's friends, who told him that the spiritualist had called him to go to his house urgently.
He did not see the spiritualist when he entered the house. Instead, he found his son's lifeless body with his shirt raised up lying in a pool of blood.
He assumed that the murder occurred sometime between 11 pm on Sunday and 12:15 am on Monday. Raymand said he strongly believed that more than one person was involved in murdering his son.