Bus bursts into flames after West Berbice pupils exit
Students of Cotton Tree Primary who were returning from a school tour in Georgetown were horrified after the bus they were travelling in burst into flames at Mahaica around 5:45 pm yesterday.
Luckily, the West Coast Berbice students, numbering about 40 to 45 and teachers had already exited the bus when it exploded two minutes later.
Reports are that the driver had stopped the bus and instructed everyone to disembark after hearing a strange noise.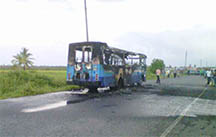 Residents and other persons passing in vehicles rushed to their assistance. They accessed water from a nearby trench and doused the burning bus.
One of the teachers collapsed and was rushed to the Mahaicony Hospital where she received treatment. Another tour bus that was passing at the time came to the rescue of the terrified children.
Last evening, Regional Education Officer, Owen Pollard and a team from the Region Five administration visited the scene and the teacher at the hospital. An investigation is to be done.