Cuban doctor, Guyanese husband still in hospital
The Cuban doctor and the pharmacy assistant, both employees of the New Amsterdam Hospital who were admitted to the institution following domestic violence, remain hospitalised.
The man, Victor Yearwood, 37, reportedly physically abused his wife, Dr. Lliana Pacron, 43, with a hammer. After she was admitted to the hospital he disappeared.
Medical personnel became suspicious after seeing the marks of violence about the woman's body and called the police. The officers searched his Savannah Park, New Amsterdam house but he was not there.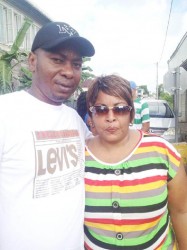 The man, in the meantime, apparently "thought she would die" and drove to a bushy area at Belle Vue, East Bank Berbice.
Sources believe that the man ingested the gramoxone before reaching the area. They were unable to locate the poison bottle. They told this newspaper that he stopped the car and went into the bushes where he collapsed.
Police received a report about one hour later that a "white car with blood" – said to be from the woman's injuries – was seen in the area. When they got to the scene the officers realized that it belonged to the man.
They searched the canefield but could not find him. They were about to abandon the search when the man started to scream out in pain and they took him to the hospital.
Last evening, a close female relative of Yearwood recalled the rocky relationship the two shared. She said the doctor had returned to Cuba because her contract was up.
Yearwood subsequently "sent for her and they got married. She wanted her naturalization and as soon as she got it she wanted a divorce," the relative said.
"From then the problem started and the two fought over everything, including money. He was "going through a lot of problems" and was being treated by a doctor. The couple was also seeking counselling.
Yearwood was also remanded for abusing the doctor. The relative said too that after he was released, he went to stay at his mother's house but the doctor begged him to return.
She also went to the station and said "someone forced her to make a false report against him…"
According to her, Yearwood ingested two types of poisons. She said when the police found him they dragged him out of the canefield causing his back to be badly bruised.