NA man succumbs to poison after suicide attempt
Victor Yearwood, 37, a pharmacy assistant of the New Amsterdam Hospital (NAH) who ingested a poisonous substance after reportedly physically abusing his Cuban wife, Dr. Lliana Yearwood, 43, has succumbed.
His sister, Nicola Luther told Stabroek News that relatives were beside him when he died in his mother's arms around 11 pm on Thursday.
Yearwood reportedly beat Dr. Lliana with a hammer to her head on Wednesday morning, causing her to bleed profusely. He also forced her to drink coffee laced with poison.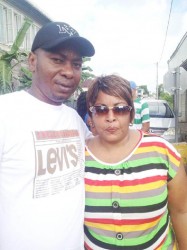 He rushed her to the hospital and when questioned, told the medical personnel that "her pressure was high and she fell in the bathroom and hit her head." She also kept the truth from the doctors at first.
Luther said shortly after someone told him that his wife died and he rushed out of the hospital and took the poison.
Doctors became suspicious after seeing the marks of violence about the woman's body and called the police. The officers searched his Savannah Park, New Amsterdam house but he was not there.
The man, in the meantime, drove to Belle Vue, East Bank Berbice and hid in the canefields after ingesting the poison.
Police received a report about one hour later that a "white car with blood" – said to be from the woman's injuries – was seen in the area. When they got to the scene the officers realised that it belonged to the man.
They searched the canefield but could not find him. They were about to abandon the search when the man started to scream out in pain and they took him to the hospital.
Luther said her brother complained that the police dragged him out of the canefield, causing his back to be badly bruised. He also cried out for a lot of back pain. Luther recalled the rocky relationship her brother and his wife shared and the constant fights they had over money. According to her, the doctor worked for a lot more money than her brother and she had to pay the bills and the instalments. She kept reminding him about in Cuban culture, it was the husband's duty to take care of the home.
Luther said "the entire house was in blood as though there were a struggle." She said "my brother called me around 9 am and told me to go to the hospital, that Lliana is there and she is unconscious."
Meanwhile, Yearwood had been remanded for abusing the doctor and the matter was pending at the court. Luther that after he was released, he went to stay at his mother's house but the doctor begged him to return.
She also went to the station and said "someone forced her to make a false report against him…."
The woman said her brother "was never a hostile person." She also said her sister-in-law is also very nice and that she got along well with the family.
She said Dr. Lliana "loved her husband and I can't understand why they couldn't get along. She never wanted anyone to get between them when they fight."
Luther said she tried to help her brother and bought a car for them and he was supposed to "work and pay back for it… He worked taxi with the car sometimes."
Most Read This Week