Finance Minister in accident, two hurt
-accused of leaving scene without rendering help
Finance Minister Dr Ashni Singh was around 9 last night involved in an accident with a taxi, leaving both vehicles badly damaged and two persons hurt. The Minister appeared to be unhurt.
"I was coming down this street (West on Garnett Street, Campbellville) and this vehicle was coming out of this road (North on Delph Avenue) and just jump the major road, slam into me sending we into that gutter…the man come out then we see is the finance minister but he ain't even offer help. He just jump into another vehicle and drive off leaving we hay …" driver Jageshwar Hira of HB 7194, told Stabroek News at the scene.
The car's passenger Parbattie Shivcharan recounted that as she sat in the back seat she didn't see the vehicle but felt the impact of Singh's vehicle, Nissan Pathfinder PMM 3860, when it slammed into the car sending them careening into a nearby trench.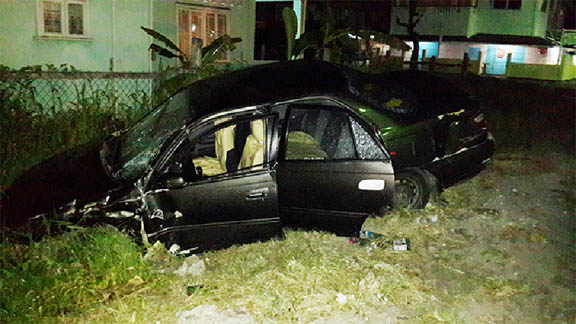 She said that she suffered injuries to her head and complained that her sides were hurting as she lamented that the Finance Minister rendered no assistance. "He didn't offer to take us with him to the hospital nothing at all. He treat we like we is nothing, didn't care if none a we dead nothing," she said.
Stabroek News tried calling Singh's mobile number and twice it was engaged while the other times the calls went unanswered.
The Minister, according to the driver, appeared to be under the influence of alcohol.
Businessman Brian Yong arrived at the scene and offered the driver compensation for his vehicle and to pay for medical bills incurred. The driver said that he wanted to see Yong's promise in "black and white" before agreeing to such.
Police are investigating.