Every traffic cop should have radar gun, breathalyzer – PM
Prime Minister Sam Hinds today said that every police officer dealing with traffic on the road should be armed with a breathalyzer, radar gun and a firm commitment to stamp out dangerous/reckless driving.
He was speaking on the matter of stricter traffic enforcement at a road safety conference at the Guyana International Conference Centre, Liliendaal, according to the Government Information Agency.
The conference has come at a particularly uncomfortable time for the government. On Sunday, Minister of Finance Dr Ashni Singh was accused of being under the influence of alcohol at the time he was involved in an accident with another vehicle which left two persons slightly injured. Singh was not given a breathalyzer test and left the scene without offering to render assistance to the two persons who were hurt. Attorney General Anil Nandlall has since said that Singh was not intoxicated. In a statement he said "Allegations that the Minister of Finance was intoxicated and failed to submit himself to a breathalyzer test are rejected. Indeed, the Minister was not invited to take a breathalyzer test by anyone and in fact, the occasion to do so did not present itself."
Last month, it was also disclosed that only three breathalyzers in the entire country were working.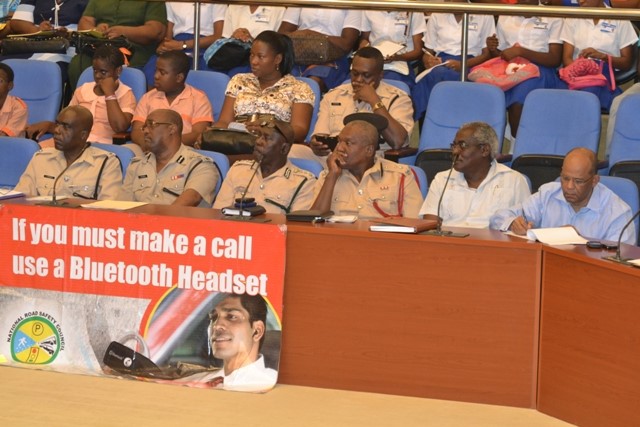 Hinds also said at today's conference that the traffic congestion in the city will have to be eased by the   "removal of parking on roads and streets, particularly those located in the busiest areas." He added that this would require new businesses and buildings that are being constructed to make provisions for parking, GINA reported.
This position is also seen as embarrassing to the government as dozens of huge buildings have gone up around the city and in other parts of the country over the years without the government insisting that they provide adequate parking space. The end result has been that many parapets are now blocked by vehicles during peak traffic. The Guyana Revenue Authority is seen as one of the prime offenders as its new head office on Camp Street has created daily traffic chaos on the this busy street.
The Ministries of Home Affairs and Public Works collaborated with the Guyana National Road Safety Council (GNRSC) in hosting today's National Road Safety Conference.
The theme for this year's conference was "Road Safety with your Life on the Line".