Guyanese in Venezuela not affected by protests – foreign minister
In the wake of continuing protests in Venezuela, Minister of Foreign Affairs Carolyn Rodrigues-Birkett has said that she is not aware of any Guyanese being injured and added that no one has approached the Guyana mission to ask to leave the country.
"So far we have not been informed of any Guyanese being injured and similarly no one has approached our embassy to leave because of the protests," Rodrigues-Birkett told Stabroek News yesterday.
Rodrigues-Birkett made the statement in the light of a visit by Venezuelan's Foreign Minister Elías Jaua on Friday where according to GINA he met President Donald Ramotar at the Cheddi Jagan Inter-national Airport to update him on the current situation in his country. Reports from Venezuela say that at least 17 people have been killed over the past two weeks during protests led by students supported by the Venezuelan opposition.
The foreign minister also told this newspaper, "It is not all of Venezuela that is affected and overall the situation has abated. I am informed that most of the protests took place in about five municipalities or so and not in the area where most Guyanese live.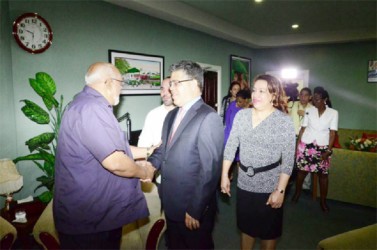 "I should note that Puerto Ordaz [Bolívar State] has a large concentration of Guyanese and so far no one has approached our honorary consul to leave," she said.
The Caracas daily El Universal reported yesterday that during his visit to Guyana the Venezuelan foreign minister made reference to a resolution of the US Senate calling on President Barack Obama to "impose specific sanctions [on Venezuela] immediately, as provided for under the existing laws."
The paper quoted Jaua as rejecting the "interference of the Senate of the United States in the internal affairs of Venezuela," and describing the protests in his country as being promoted by "ultra rightwing sectors."
According to El Univer-sal Jaua told his Guyanese hosts that President Nicolás Maduro's government rejected "the intent to impose extraterritorial visions and intentions" from Washington. He was reported as going on to add that should Venezuela believe that its current situation needed to be discussed within the framework of any international organization, Caracas would resort to the Unasur. "Our North is our South," he was quoted as saying.
Panama had earlier asked for a meeting of the Permanent Council of the OAS to discuss the Vene-zuela situation, but this had been postponed by the Venezuelan deputy chairman of the council in the absence of the chairman.
A report in El Universal on Thursday said that the Venezuelan foreign minister was touring South America to garner support for Unasur to hear the matter rather than the OAS.